RELAX ... sit back and let us take care of it.
Lawn care and so much more!
Our goal is to make you happy--we will treat your home as if it were ours. We take the time to listen -- we take the time to customize your lawn care program to your lawn's needs -- we take the time to care for your landscape the way you wish you had time and knowledge to do yourself.
We'll help you transform your outdoor spaces into outdoor 'living' spaces ... so you can have that outdoor room ... so you can have more time to enjoy your place in the world ... so you can share your spaces with your family and friends.
We will make your lawnscape the best it can be. Your customer experience will be a positive one. Our advice is something you can count on. Lawn Boyz is confident that you will be happy ... we guarantee it! *
* If you are not happy with something we have done, we will come back and make it right ... but you probably won't need to use our guarantee because we do it right the first time.
ABOUT US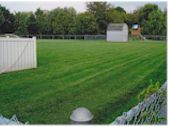 Lawn Boyz, Inc. has been doing business in northwest Indiana for over 15 years, has been a continuous member of the Better Business Bureau, has over 100 years of combined experience among the owners and foremen, and is licensed/bonded/insured.
The co-owners are Jeff and Robert Bixenman. Instilling in their employees the importance of customer service and communication, they have built a business around relationships they have built with their customers and suppliers.
It's Spring ... Time To ...
* Schedule your lawn care program
* Arrange a lawn clean-up
* Order your hanging baskets, geraniums,
perennial bedding plants,
and potted tropicals
Think About a Landscaping Project
We'll help you design the perfect patio, walkway, retaining wall, water feature, or planting beds.
Plan Ahead Toward Winter
LawnBoyz doesn't stop when he days get shorter -- we'll take care of your snow removal, we'll put up your Christmas lights, and we'll deliver your personalized evergreen wreath to your door.